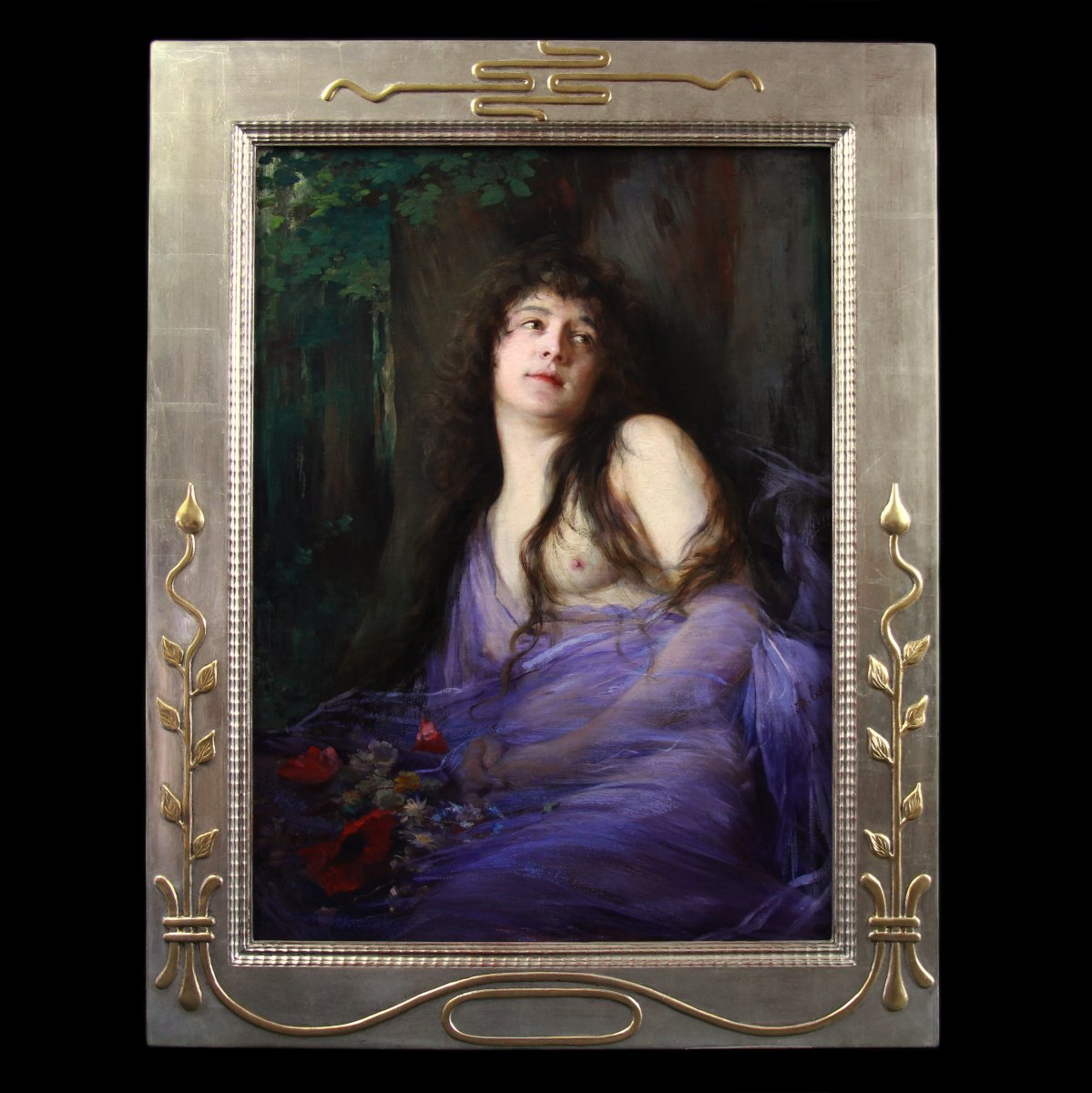 Portrait of a nymph Art Nouveau 19th by Adolf Echtler (1843-1914)
Portrait of a nymph Art Nouveau 19th by Adolf Echtler (1843-1914)
Extra info about the artist :
Adolf Echtler ( born May 5, 1843 in Danzig; † September 23, 1914 in Munich) was a German genre painter.
Adolf Echtler was the son of the painter and photographer Eduard Echtler. As a child Echtler came to Riga with his father in 1847, then to Saint Petersburg in 1850, where his father gave him his first painting lessons.
For health reasons, Echtler went to Venice around 1860 where he began his studies at the Academy of Fine Arts.
He then studied at the art academy in Vienna and in Munich with Wilhelm von Diez.
Since 1869 he exhibited his works in Munich, Berlin, Düsseldorf, Dresden and Königsberg. In 1870 he became a member of the Vienna Künstlerhaus.
Adolf Echtler worked in Paris from 1877 to 1886, where he took part in the salon from 1879 to 1885.
He was also an honorary member of the Royal Academy of Arts in Munich and carried the title of royal professor.
His work realized prices ranging from $813 to $19,710 depending on the size and medium of the artwork.
Since 1999 the record price for this artist at auction has been recorded at $19,710 for " AT A WELL IN VENICE " ( sold at Lempertz  Cologne in 2010 ).
The artist died in 1914.
This Portrait of a nymph is a very exceptional painting , framed is an exclusive silver and gilded Art Nouveau frame !
Extra info about the painting :
Title artwork :   a nymph
Médium:    oil on canvas
Signature:  signed middle right
Provenance:   private collection
Dimensions:    canvas  60 cm x 80 cm  –  76 cm x 96 cm with frame
Condition: very good condition ( cleaned artwork )
Artiste : Adolf Echtler (1843-1914)
School : German school
Sold with the frame !!
Free shipping via DHL Express !!
Only logged in customers who have purchased this product may leave a review.