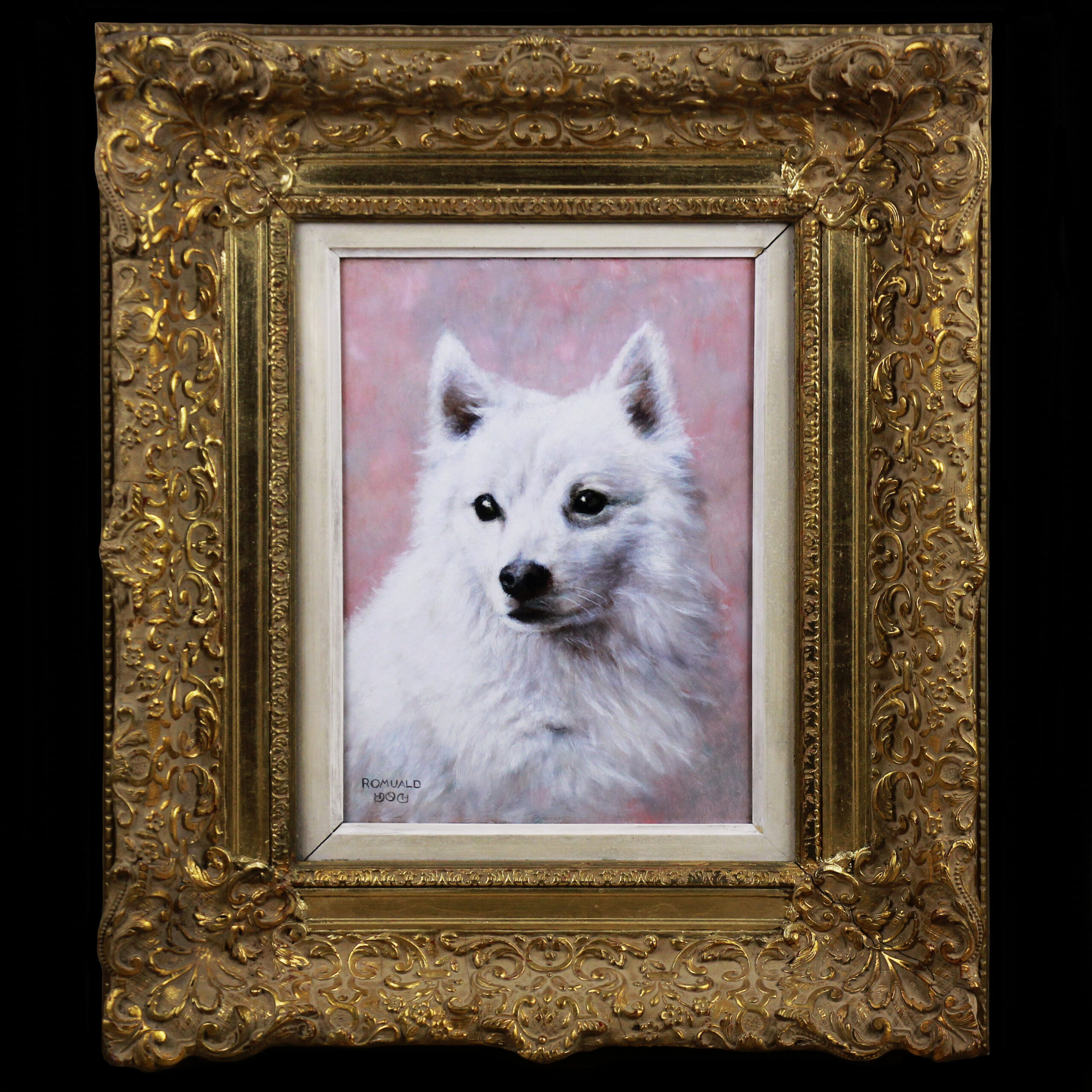 Oil on panel portrait of an American Eskimo dog 2Oth
Oil on panel portrait of a American Eskimo dog, signed Romuald Polish school early 20th
Very decorative and exclusive painting , so it's perfect for the dog painting collectors .
Additional information about the dog breed :
The American Eskimo Dog is a breed of companion dog, originating in Germany. The American Eskimo Dog is a member of the Spitz family.
The breed's progenitors were German Spitz, but due to anti-German sentiment during the First World War, it was renamed "American Eskimo Dog."
Although modern American Eskimo Dogs have been exported as German Spitz Gross (or Mittel, depending on the dog's height), the breeds have diverged and the standards are significantly different.
In addition to serving as a watchdog and companion, the American Eskimo Dog also achieved a high degree of popularity in the United States in the 1930s and 1940s as a circus performer.
There are three size varieties of the American Eskimo Dog breed, the toy, the miniature and the standard.
Extra info about the painting :
Title:  portrait of an American Eskimo
Materials :   oil on panel
Signature:   signed Romuald
Provenance:   private collection Germany
Dimensions panel :  25 cm x 32 cm
Dimension framed : 49 cm x 57 cm
Condition: very good condition ( fully restored cleaned  )
Artiste : Romuald
School : Polish school 20th century
________________________________________________________________________
Sold with his original period frame .
Free shipping via DHL Express !!
Additional information
Materials

Oil on wooden panel

Dimensions

painting : 25 cm x 32 cm

framed : 49 cm x 57 cm

Artist

Signed bottom left : Romuald

Date

ca. 1920

Provenance

Private sale Germany
Only logged in customers who have purchased this product may leave a review.