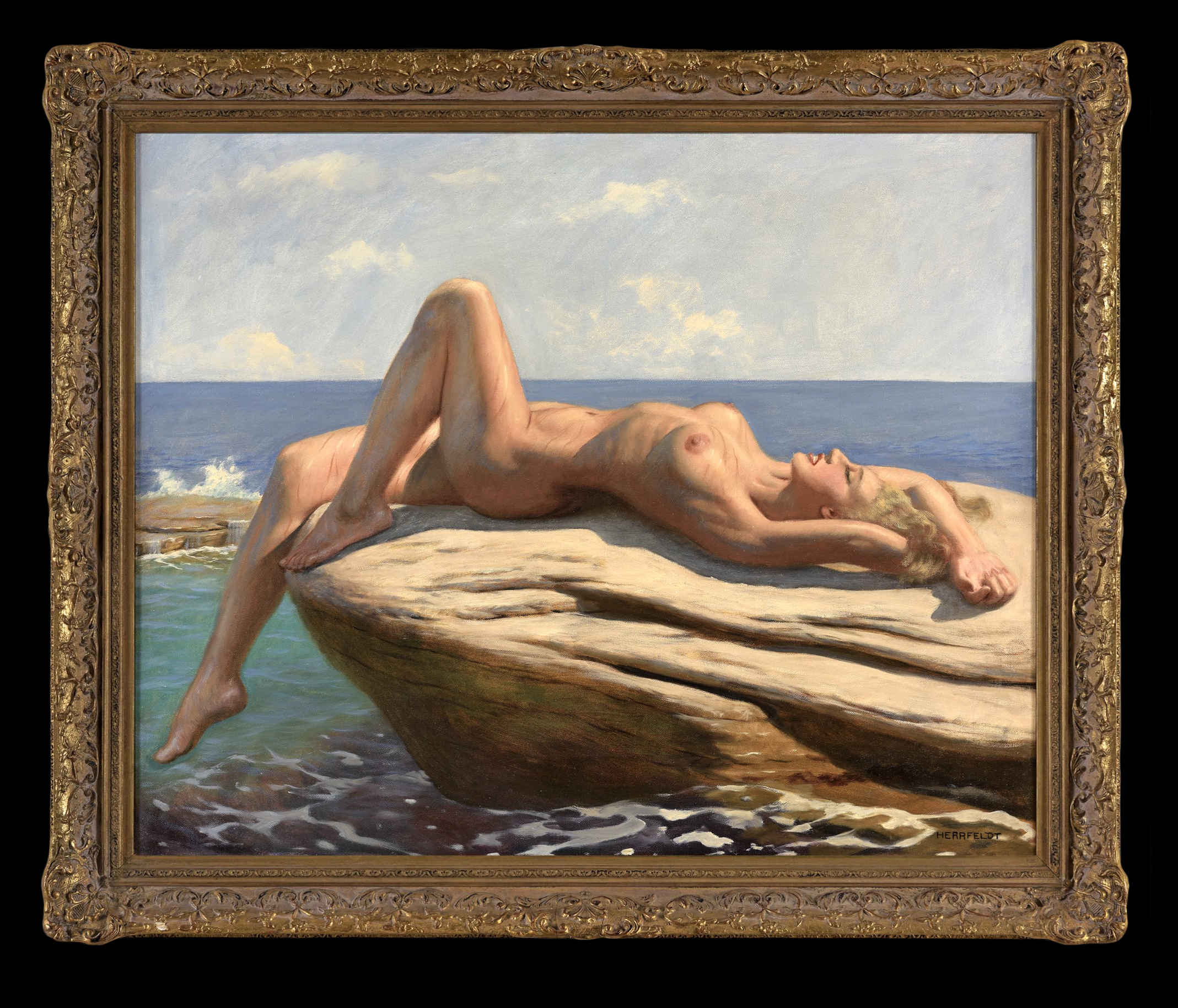 Reclining nude beauty oil on canvas by Marcel Herrfeldt
Reclining nude beauty " Roxana " oil on canvas by Marcel René HERRFELDT (1889-1965)
Extra info about the artist :
Marcel René von Herrfeldt was born in 1889 Paris .
His parents Alice Herrfeldt and Luis Ricardo Falero, are both artists and engaged to the bustling art scene of Paris and Europe.
Since a very young age, painting is a preoccupation of Herrfeldt.
He mainly studies in Munich, guided by Franz von Stuck, Florence and Paris, with an interruption during the First World War.
Herrfeldt's paintings are strongly influenced by his teacher Franz von Stuck ( in an early phase ) he is both influenced by motives and genre .
Later on, he develops a more individual style integrating realistic and expressionist elements.
The motives Herrfeldt does not only share with other protagonists of the Munich School, but with his father as well.
Herrfeldt focus on nude paintings and ( especially women portrayals ) is relatively widespread in that art scene.
Very exceptional painting !
Extra info about the painting :
Title:   reclining nude beauty " Roxana "
Médium:    oil on canvas
Signature:  signed corner below right
Provenance:   private collection Düsseldorf
Dimensions:    canvas 80 cm x 100 cm –  95 cm x 115 cm framed
Condition: very good condition ( cleaned artwork )
Artiste : Marcel René HERRFELDT (1889-1965)
School : German school
We have other nude paintings in our collection , look at the other related paintings on our website .
All our paintings are in very good condition , what means that you don't have to make additional costs on restoration .
This painting is ready to be displayed ….
We are also active on the art and antiques sites of " Proantic "and " anticSwiss ",with a large collection of exclusive artworks !!!
Sold with the frame .
Free shipping via DHL Express !!
Only logged in customers who have purchased this product may leave a review.