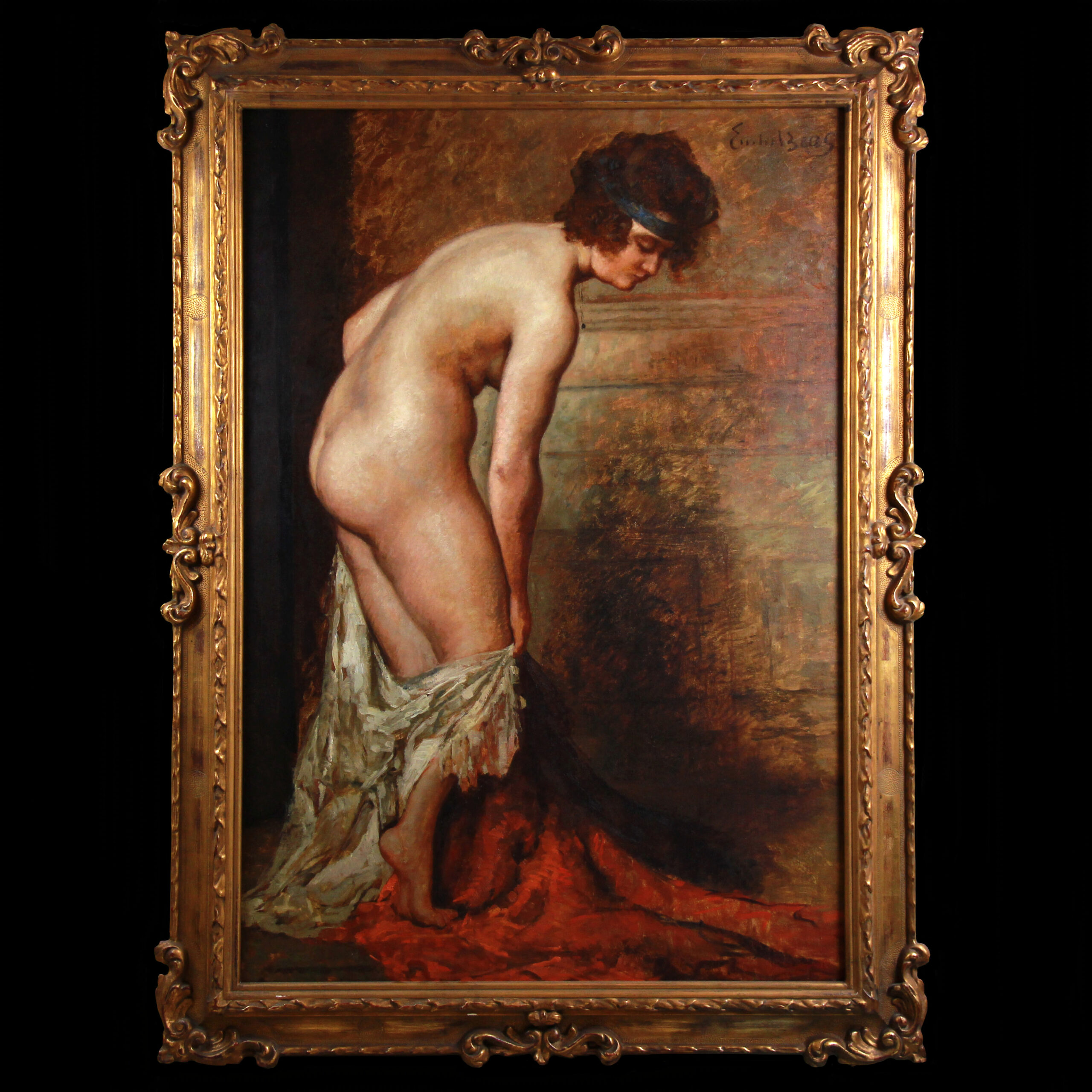 Emile Baes nude oil on canvas Belgian school 20th
Emile Baes nude oil on canvas Belgian school 20th
Enquiry about Emile Baes nude oil on canvas Belgian school 20th

Emile Baes " nu au drapé " , framed in a very nice period frame .
Extra info about the artist :
Émile Baes, born in Brussels on November 12, 1879 and died in Paris in 1954, is a Belgian painter, engraver, art critic and writer.
Painter of women, nudes, figures and historical scenes.
Studied at the Academy of Brussels, completed his training in Paris with Bonnat and Cabanel.
Exhibits in Paris and Brussels ("Princesse d'Amour", Galerie Le Roy).
Marked by Flaubert and symbolism.
Orientalist trend.
Iconography of the femme fatale (Salomé, Messaline, Cleopatra). Literary activities parallel to his painting. He wrote "The sadistic gods", "Princess of Love" …
This nude oil on canvas is a very nice example of the work of the artist .
Extra info about the painting :
Title:   Nu au drapé
Materials :    oil on canvas
Signature:    signed upper right in the corner
Provenance:   private collection
Dimensions canvas : 90 cm x 130 cm ( large dimensions )
Dimension Framed : 112 cm x 150 cm
Condition: very good condition ( full restored artwork )
Artiste : Emile Baes ( 1879 – 1954 )
School : Belgian school early 20th century
Style : Impressionism
________________________________________________________________________
Very nice oil on canvas depicting a nude beauty with a drape .
Sold with a nice gold-leaf frame .
Free shipping via DHL Express !!
Only logged in customers who have purchased this product may leave a review.