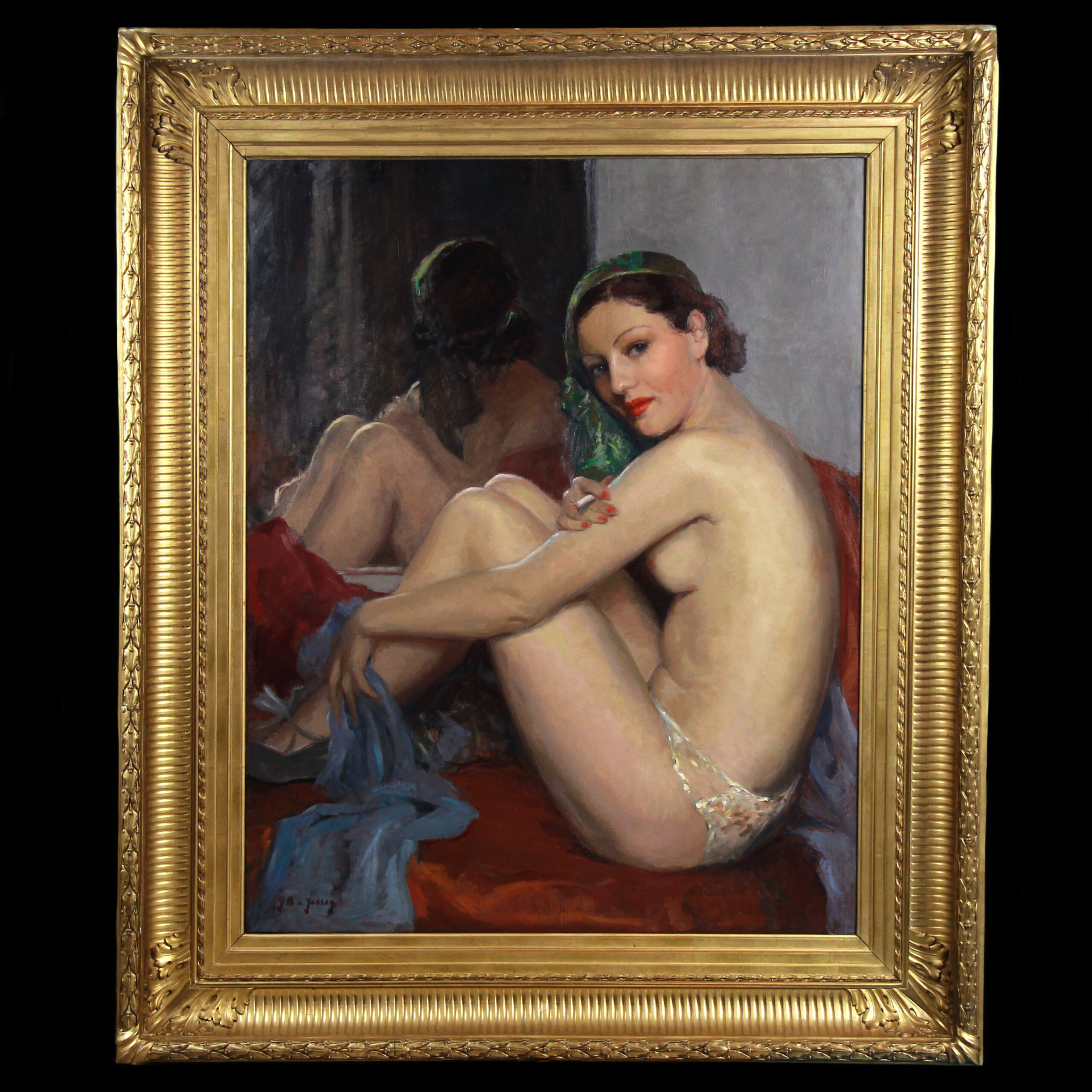 Cabaret dancer sitting before a mirror nude oil on canvas
Cabaret dancer sitting before a mirror and smoking a cigarette
Very nice nude oil on canvas that was painted by the French artist Guy De Jessey .
Extra info about the artist :
Artiste talentueux nommé Bazin de Jessey Guy.
La famille Bazin de Jessey est une famille de l'ancienne bourgeoisie originaire de Normandie, issue de Guillaume Bazin (1612-1685)
Etablie en Bretagne au XVIIIe siècle à Landerneau (Finistère), puis au XIXe siècle, à Dinan (Côtes-d'Armor).
Guy Bazin de Jessey (1900-1984), issu de cette famille, était artiste-peintre.
Peux d'information sur cet excellent artiste.
Extra info about the painting :
Title artwork :   cabaret dancer sitting before mirror
Médium:    oil on canvas
Signature:  signed lower left
Provenance:   private collection
Dimensions:    canvas  73 cm x 92 cm  –  sold without frame
Condition: very good condition ( cleaned artwork )
Artiste : Guy Bazin de Jessey (1904-1984)
School : French school
Sold without the frame !! ( the frame in a little bit to large for the painting by 2mm )
Although you can purchase this wonderful period frame separately for the price of 1.200 € .
A professional framer can make a smaller inner frame ( max 1,5 cm ) to resolve the problem of dimension
Don't hesitate to contact us for more questions or price inquiry !
Free shipping via DHL Express !! ( without the frame )
Only logged in customers who have purchased this product may leave a review.