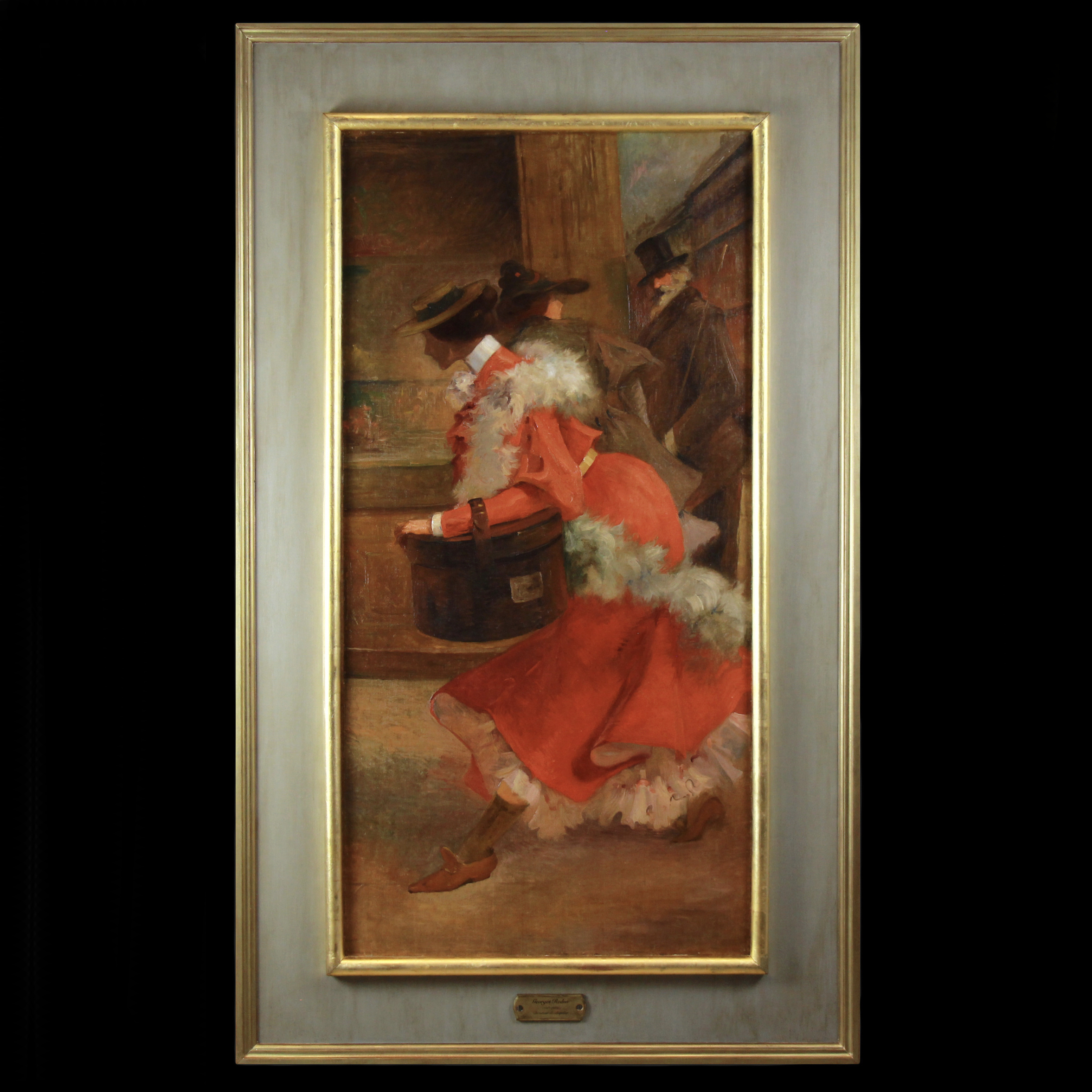 Georges Redon (1869-1943) French oil on canvas Art nouveau
Georges Redon (1869-1943) ,  famous French artist , Art Nouveau portrait oil on canvas " De retour du chapelier "  .
This one fine example in the Art Nouveau style, very rare to find such a nice example of it .
The painting is framed in an astonishing nice mural panel  .
Attached is a painting sold at " Var enchères " for the sum of € 12.000 ( € 15.600 with Buyer's Premium )
** Here is an opportunity to own authentic period pieces without having to pay six or seven figure sums. **
Additional info about the artist :
Georges Redon was a French artist who was born in 1869.
Redon was born in November 1869 in Paris, where he lived and worked his whole life.
He was a painter, draftsman, caricaturist, poster artist, engraver and lithographer.
Redon began his career drawing humorous sketches for newspaper and magazines, but soon expanded into advertisements (using an Art Nouveau style).
He set up his own printing workshop and designed interiors, menus and posters for the thriving restaurants and cabarets of the French capital.
The artist exhibited regularly and received considerable professional recognition.
Additional info about the style : 
Art Nouveau is an international style of art, architecture and applied art, especially the decorative arts, that was most popular between 1890 and 1910.
A reaction to the academic art of the 19th century, it was inspired by natural forms and structures, particularly the curved lines of plants and flowers.
English uses the French name Art Nouveau (new art).
The style is related to styles that emerged in many countries in Europe at about the same time: in Austria it is known as Secessionsstil after Wiener Secession
Art Nouveau is a total art style: It embraces a wide range of fine and decorative arts, including architecture, painting, graphic art, interior design, jewelry, furniture, textiles, ceramics, glass art, and metal work.
By 1910 Art Nouveau was already out of style ,and was replaced as the dominant European architectural and decorative style first by Art Deco and then by Modernism.
Extra info about the artwork :
Title: " De retour du chapelier "
Médium: oil on canvas on panel
Signature: not signed
Provenance: private collection
Dimensions canvas: 136 cm x 68 cm
Dimensions frame : 170 cm x 100 cm
Condition: very good condition ( cleaned artwork )
Artiste : Georges Redon (1869-1943)
School : French school
Attention : Asking price is for 1 painting only " de retour du chapelier " , it is possible to purchase the both for a better price
Sold with the frame .  No Import or VAT for the EU zone
Shipping via DHL Express ( France  – region Paris / Hauts de France –  Belgium , Netherlands ) !!
Additional information
| | |
| --- | --- |
| Artist | Alfred Émile Léopold Stevens (11 May 1823 – 24 August 1906) |
| Materials | Oil on canvas |
| Provenance | Private sale France ( Lille ) |
| Dimensions | Canvas : 90 cm x 68 cm |
Only logged in customers who have purchased this product may leave a review.