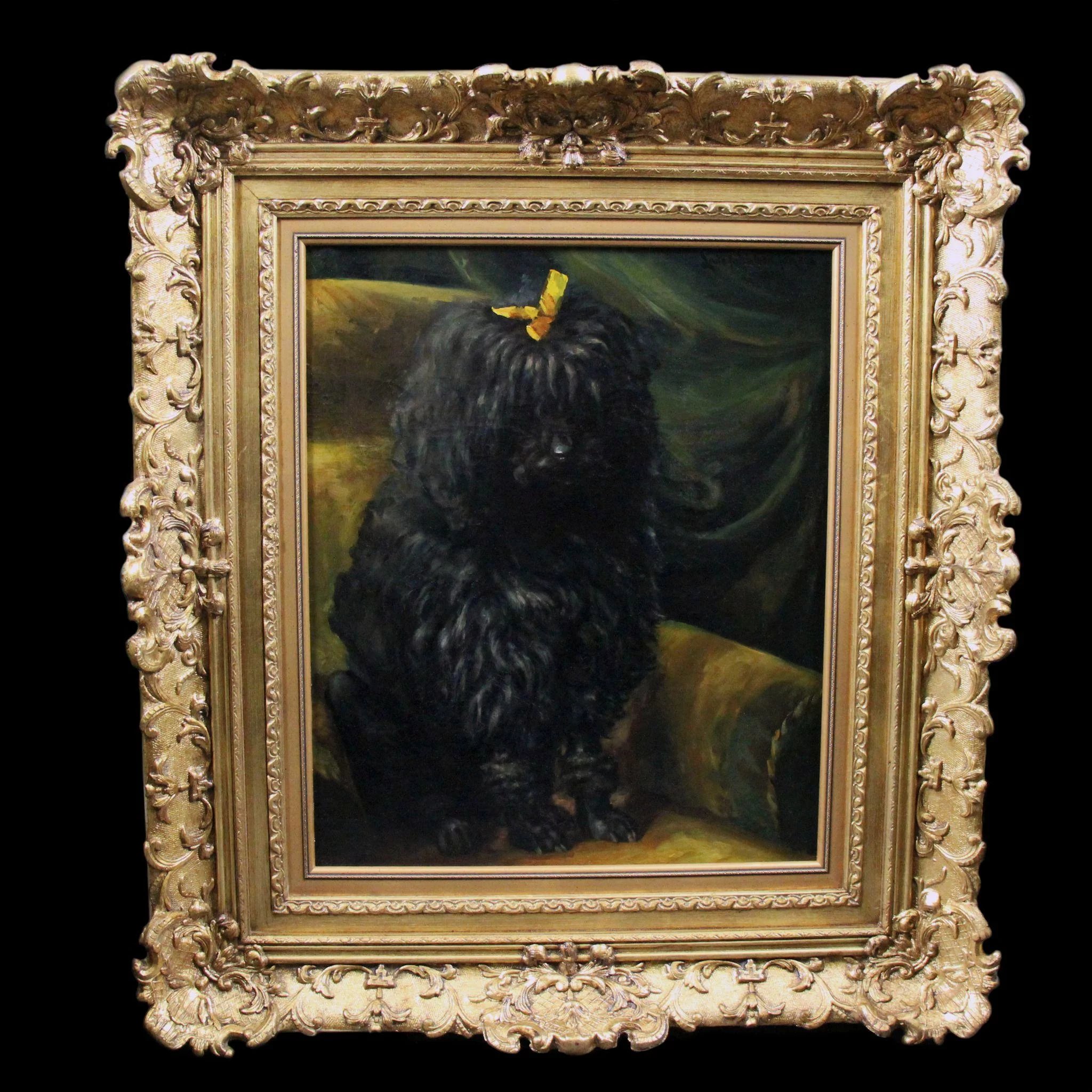 Antique fine art oil painting on canvas portrait of a dog " poodle "
Beautiful antique oil painting depicting the portrait of sitting poodle dog ,
painted by Louis Johnson JONES (1888-1922) British school early 20th
Very nice  painting in a good condition, sold without the decorative gold-leaf period frame
The origin of the poodle is disputed. The Kennel Club of the United Kingdom states that the breed originates in Germany, and the American Kennel Club of the United States concurs, stating: "Despite the Poodle's association with France, the breed originated as a duck hunter in Germany…" The Oxford English Dictionary and the American Heritage Dictionary both trace the etymology of Poodle to the German Pudel, which itself comes from Pudelhund. The word Pudel in turn comes from Low German pud(d)eln meaning "[to] splash in water,"cognate with the English word puddle.
However, the Fédération Cynologique Internationale, the international ogranization of which both France and Germany's main kennel clubs are memebrs, claims the breed descends from the French Barbet. When the breed was officially recognized by the FCI, in order to avoid any possible dispute between two founding members, Germany recognized the Poodle as a dog originating from France.The progenitor of the breed might have also been crossed with the Hungarian Puli.. The French name Caniche comes from the word cane (the female of the duck) since this type of breed was used as a water retriever mainly for duck hunting thanks to its swimming ability. Due to the breed's popularity in France, it was claimed to be a national breed.
The European mainland had known the poodle long before it was brought to England. Drawings by German artist Albrecht Dürer established the popular image of the breed in the 15th and 16th centuries. It was the principal pet dog of the late 18th century in Spain, as shown by the paintings of the Spanish artist Francisco Goya. France had toy poodles as pampered favorites during the reign of Louis XVI at about the same period.
Additional information
Materials

Oil on canvas

Artist

Louis Johnson JONES (1888-1922) British school

Dimensions

painting : 51 cm x 61 cm

framed: sold without !!

Condition

Good condition
Only logged in customers who have purchased this product may leave a review.