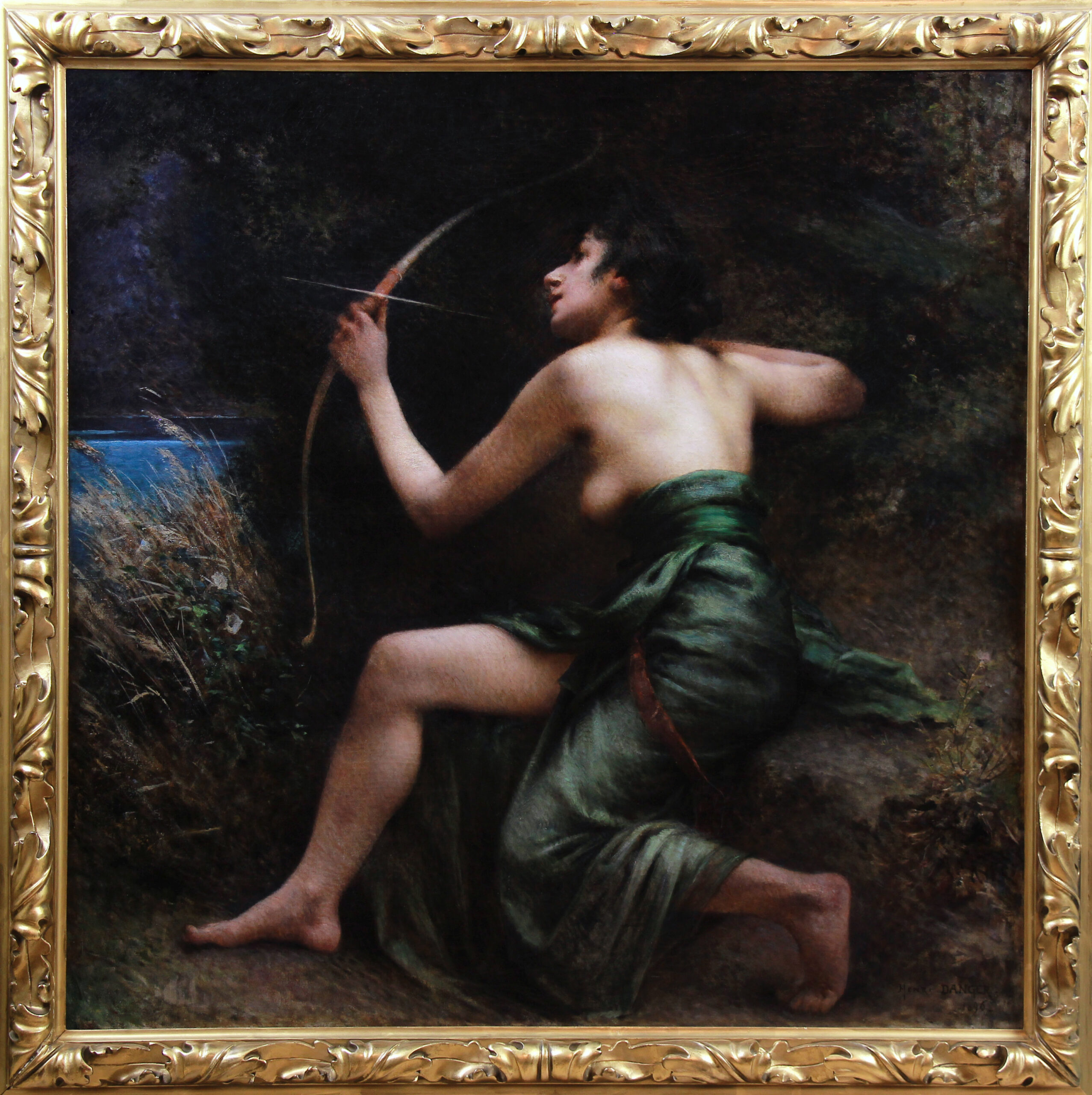 Antique oil painting on canvas nude" Goddess Artemis "19th
Antique oil painting on canvas nude ,depicting The Goddess Artemis 19th Century by Henry Camille Danger
Additional information about the artist :
Henri-Camille Danger was a French Impressionist and Modern painter born in 1857. The artist died in 1937.
His work has been featured in an exhibition at the Museo Nacional de Arte in Mexico.
Henri-Camille Danger's work has been auctioned several times and realized prices ranging from $ 737 USD to $ 136,685 USD,
depending on the size and medium of the work. Since 2000, the record auction price for this artist is US $ 136,685
for Aimez – Vous Les Uns Les Autres or La Transgression du Commandement, sold to the Dorotheum, Vienna in 2016. The artist died in 1937.
The Painting is in perfect condition and is framed in his original period frame .
Additional information about the subject :
Artemis is the Greek goddess of the hunt, the wilderness, wild animals, the Moon, and chastity.
The goddess Diana is her Roman equivalent.
Artemis is the daughter of Zeus and Leto, and the twin sister of Apollo.
She was the patron and protector of young girls, and was believed to bring disease upon women and relieve them of it.
Artemis was worshipped as one of the primary goddesses of childbirth and midwifery along with Eileithyia.
Much like Athena and Hestia, Artemis preferred to remain a maiden and is sworn never to marry.
Free shipping with DHL Express !!
Additional information :
Artist :   Henri-camille Danger 1857 – 1937
Period:  19th century
Style:     Impressionism
Condition : very good condition
Material : Oil on canvas
Dimentions  : canvas 85cm x 85cm  – frame 96cm x 96cm
Only logged in customers who have purchased this product may leave a review.