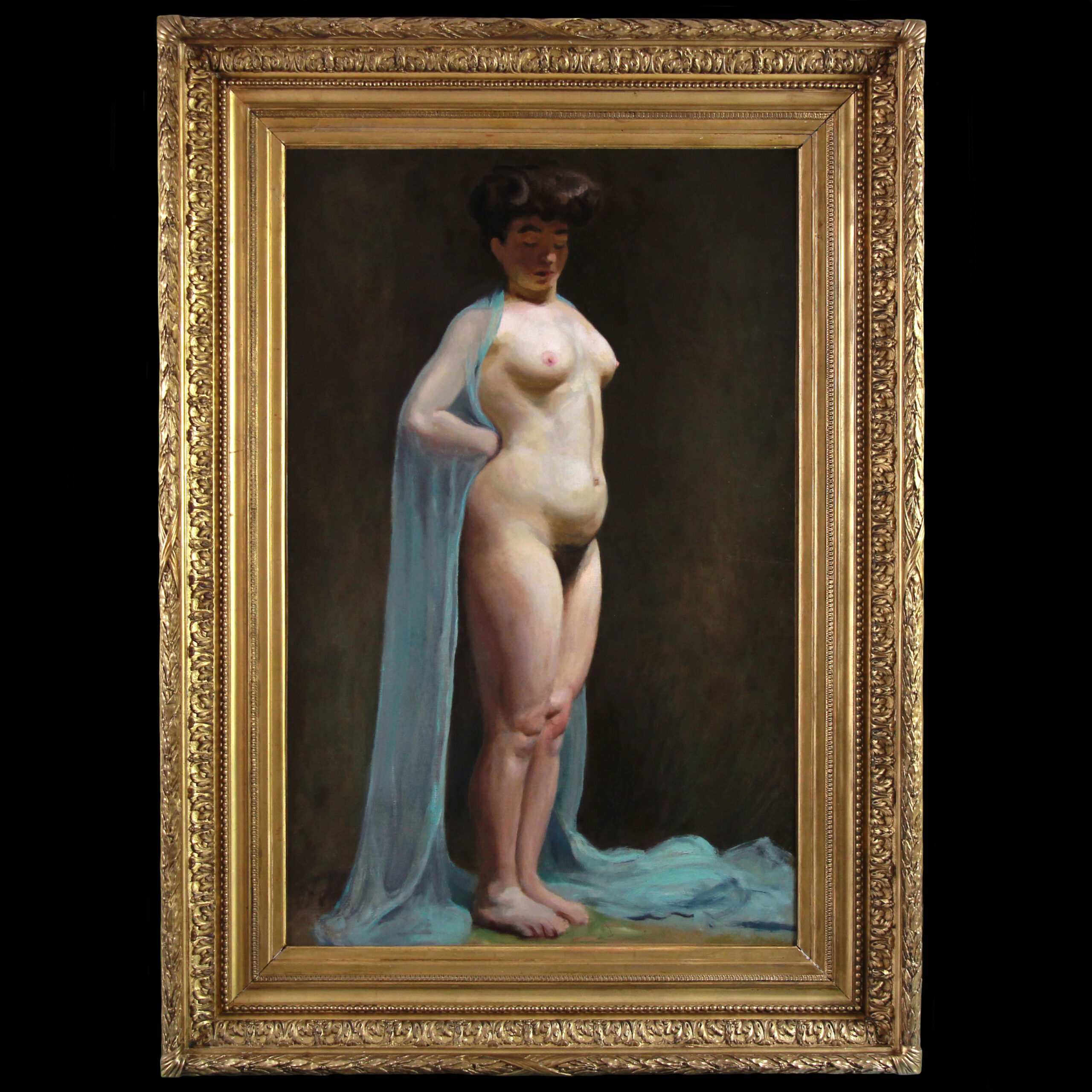 Academic nude oil on canvas "lady with the bleu veil " period frame
Academic nude oil on canvas " lady with the bleu veil " with period frame
Academic nude / study , attributed to :  Emile Auguste Carolus-Duran (1837-1917) .
Charles-Émile Auguste Durand ( Lille 1837 – Paris 1917) usually called Carolus-Duran, was a French painter.
He was one of the most esteemed portraitists of the upper classes during the Third Republic.
Extra info about the style :
Academic art, or academicism or academism, is a style of painting and sculpture produced under the influence of European academies of art.
Specifically, academic art is the art and artists influenced by the standards of the French Académie des Beaux-Arts,
which was practiced under the movements of Neoclassicism and Romanticism,
and the art that followed these two movements in the attempt to synthesize both of their styles, and which is best reflected by the paintings of William-Adolphe Bouguereau, Thomas Couture, and Hans Makart.
Very exceptional painting !
Extra info about the painting :
Title:  lady with the bleu veil
Style : nude
Médium:    oil on canvas
Signature:  not signed
Provenance:   private collection France
Dimensions canvas :    60 cm x 92 cm
Dimensions framed :  85 cm x 118 cm
Condition: very good condition ( relined and cleaned artwork )
Artist : attributed to Emile Auguste Carolus-Duran (1837-1917)
School : French school 19th century
Sold with a very nice restored Napoleon III period frame .
Shipping via DHL Express !!
No import charges for the European Union !!
Only logged in customers who have purchased this product may leave a review.