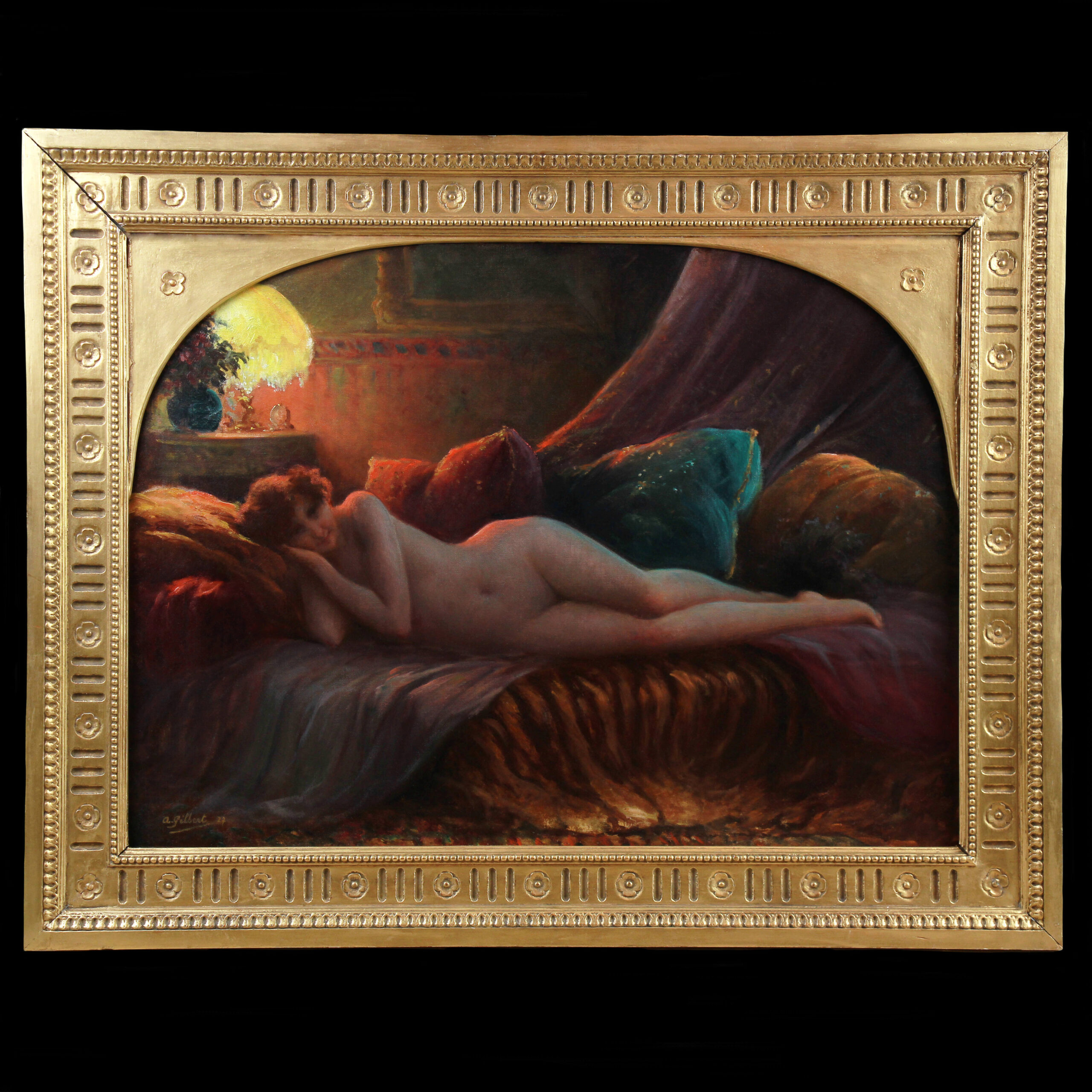 nu allongé sur un divan oil on canvas 1927
Nu allongé sur un divan oil on canvas ,framed in his original gilded frame .
The style that used by the painter , can be compared with that of Delphin Enjolras ( French painter , 1857 Coucouron –1945 Toulouse)
Extra info about the artist :
Charles Allan Gilbert (September 3, 1873 – April 20, 1929), better known as C. Allan Gilbert, was a prominent American illustrator.
He is especially remembered for a widely published drawing (a memento mori or vanitas) titled All Is Vanity.
The drawing employs a double image (or visual pun) in which the scene of a woman admiring herself in a mirror, when viewed from a distance, appears to be a human skull.
The title is also a pun, as this type of dressing-table is also known as a vanity…..
Extra info about the painting :
Titre:   Nu allongé sur un divan
Médium:    huile sur toile originale
Signature:      Signé en bas à gauche 1927
Provenance:   Collection privé
Dimensions:    54 x 73 cm sans cadre ( 20P ) , et 69 x 88 cm avec cadre
Condition: Très bon état d'origine
Artiste : Charles Allan Gilbert
école : école Américaine
Livraison gratuite pour l'union Européen avec DHL Expres Express !!
N'hésitez pas à nous faire une offre !
________________________________________________________________________
Very nice and large oil on canvas depicting a reclining nude beauty .
Sold with original frame .
Free shipping via DHL Express !!
Only logged in customers who have purchased this product may leave a review.