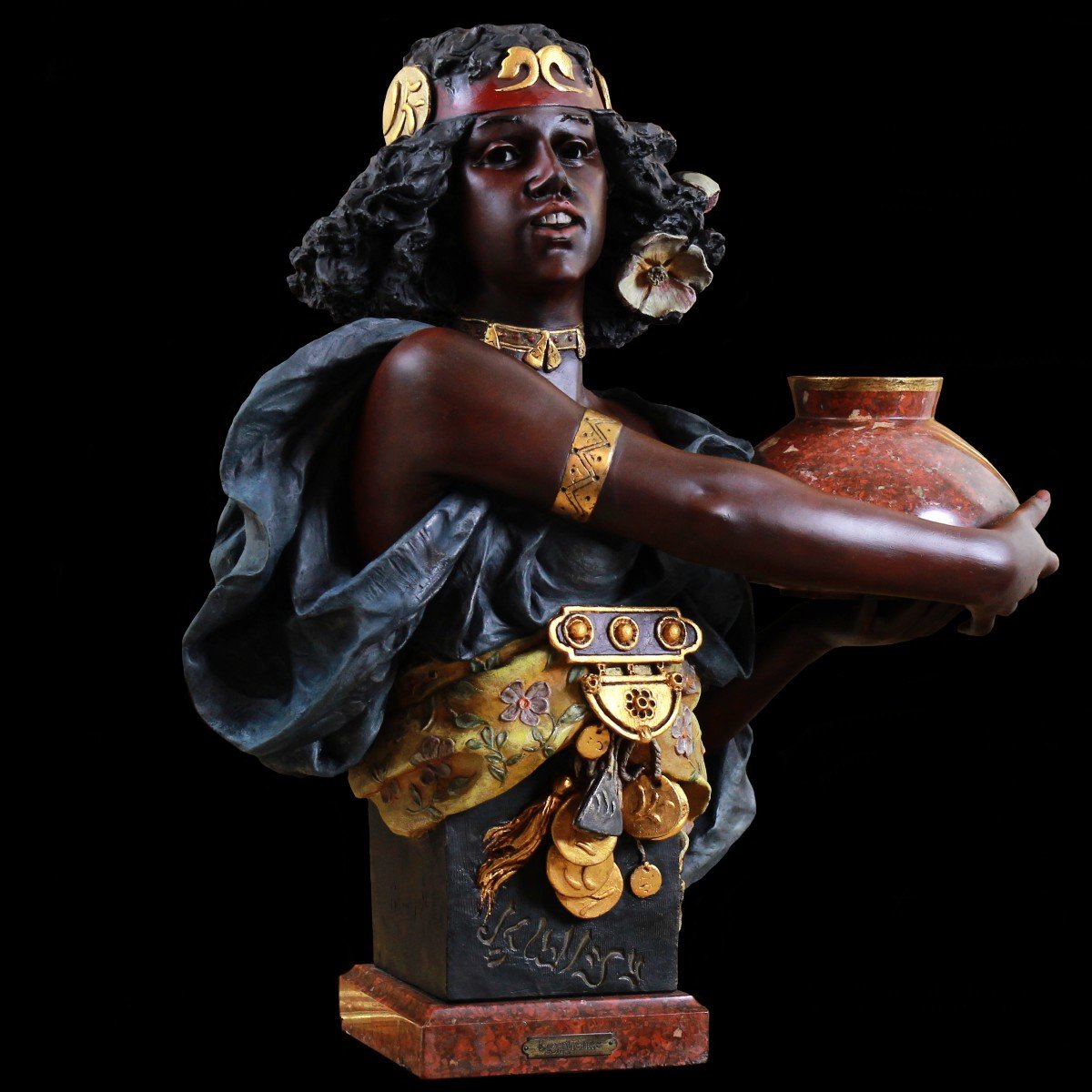 Egyptian polychromed terracotta bust 19th
Egyptian polychromed terracotta bust 19th century by the German artist Johann Baptist Schreiner
Very exclusive Egyptian polychromed bust depicting an Egyptian woman holding a red marble jar in her hands .
Bears the signature of the maker and dated 1898
Extra info about the artist and work :
Johann Baptist Schreiner was a sculptor and artist who designed medals.
Schreiner was a pupil of Wilhelm von Rümann.F
rom 1894 he lived in Colognen 1991 Kolping was beatified by the Pope, the canonization is still going on
(one of two prerequisites, a martyr or miracle worker, must exist for canonization; that According to Wikipedia, the process of canonization costs 250,000 euros (in 1997) to be paid to the Vatican! Well, hallelujah!).
The larger than life monument was created in 1903 by Johann Baptist Schreiner (1866 – 1935) : The journeyman father .
Extra info about the painting :
Title: L'egyptienne
Médium:   polychromed terracotta
Signature:  signed on the bottom of the sculpture
Provenance:   private collection Belgium
Dimensions:    Hight 62 cm
Condition: very good condition
Artiste : Johann Baptist Schreiner (1866-1935)
School : German school
We are also active on the art and antiques sites of " Proantic "and " anticSwiss ",with a large collection of exclusive artworks !!!
Shipped in a wooden reenforced case.
Free shipping via DHL Express !!
Only logged in customers who have purchased this product may leave a review.