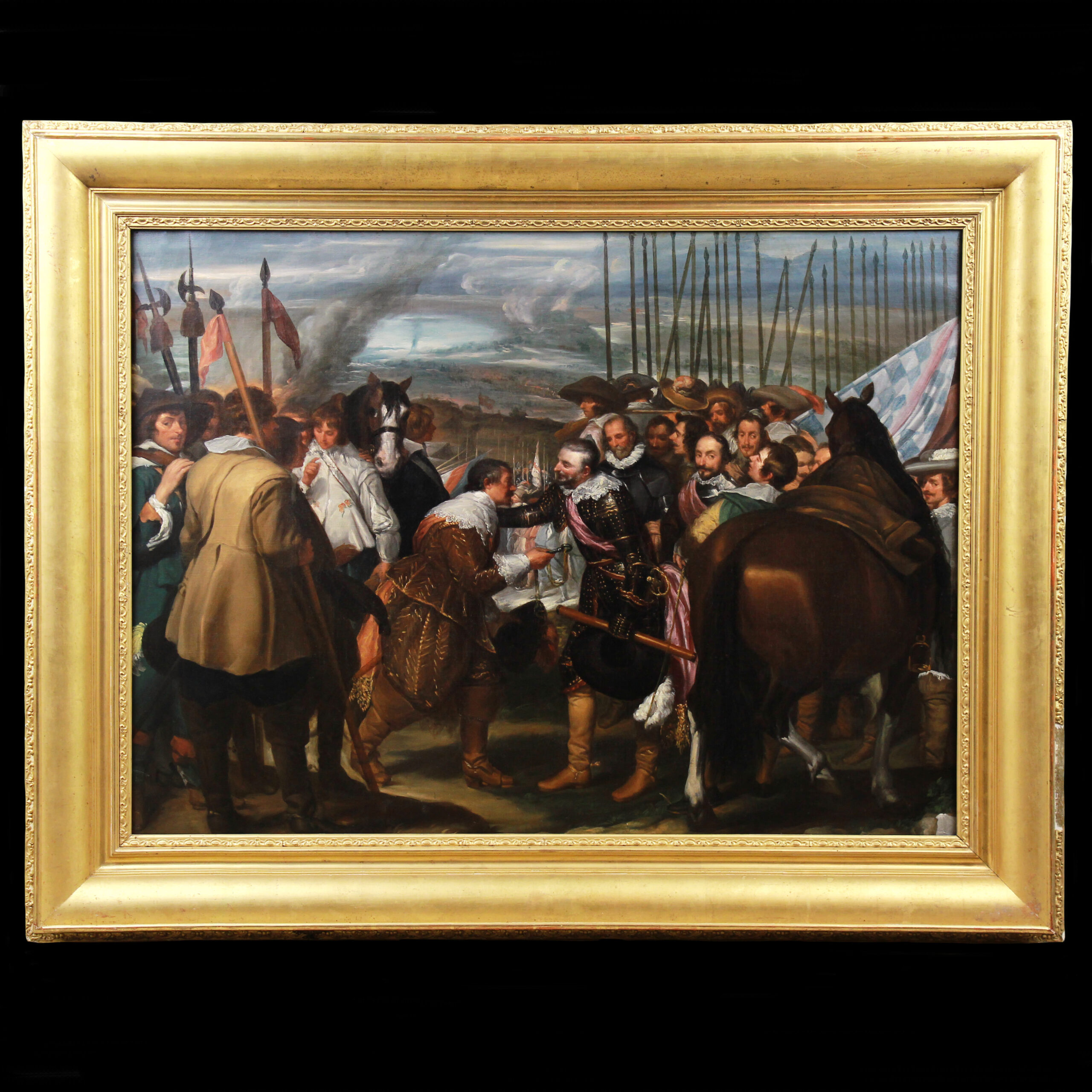 Historical scene oil on canvas after Diego Velázquez
Historical scene oil on canvas depicting " the surrender of Breda " after Diego Velasquez ( 1599 – 1660 )
Additional information about the painting :
The Surrender of Breda ( June 5 – 1625 ) known as " the Lances"  is an oil on canvas painted by the Spanish painter Diego Velázquez ( 1599, Seville – 1660, Madrid)
The painting was created during the years 1634 and 1635.
It measures 307 cm high by 367 m wide and is preserved today in the Prado Museum.
The painting represents the handing over of the keys of the city of Breda by Justin de Nassau ( Dutch governor of the city ) to the Spanish general Ambrogio Spinola.
The response to Velazquez's artwork was grand, the critical reaction being that " The Surrender of Breda " was the most impressive Spanish works of art.
Also, the artwork solidified Velazquez's effort as the most superb depiction of Spanish Baroque, provided that Baroque art was closely connected to humanity and how people should be seen and represented
Extra info about the painting :
Title:   " the surrender of Breda "
Materials :   oil on canvas
Signature:   not signed
Dimensions canvas : 62 cm x 84 cm
Dimensions frame  : 82 cm x 104 cm
Condition:  good condition
Artiste : after Diego Velasquez ( 1599 – 1660 )
School :  school end 19th century
Provenance : Sale France
Style : Baroque Historical scene
________________________________________________________________________
Sold with his original period frame .
Free shipping via DHL Express !!
Only logged in customers who have purchased this product may leave a review.