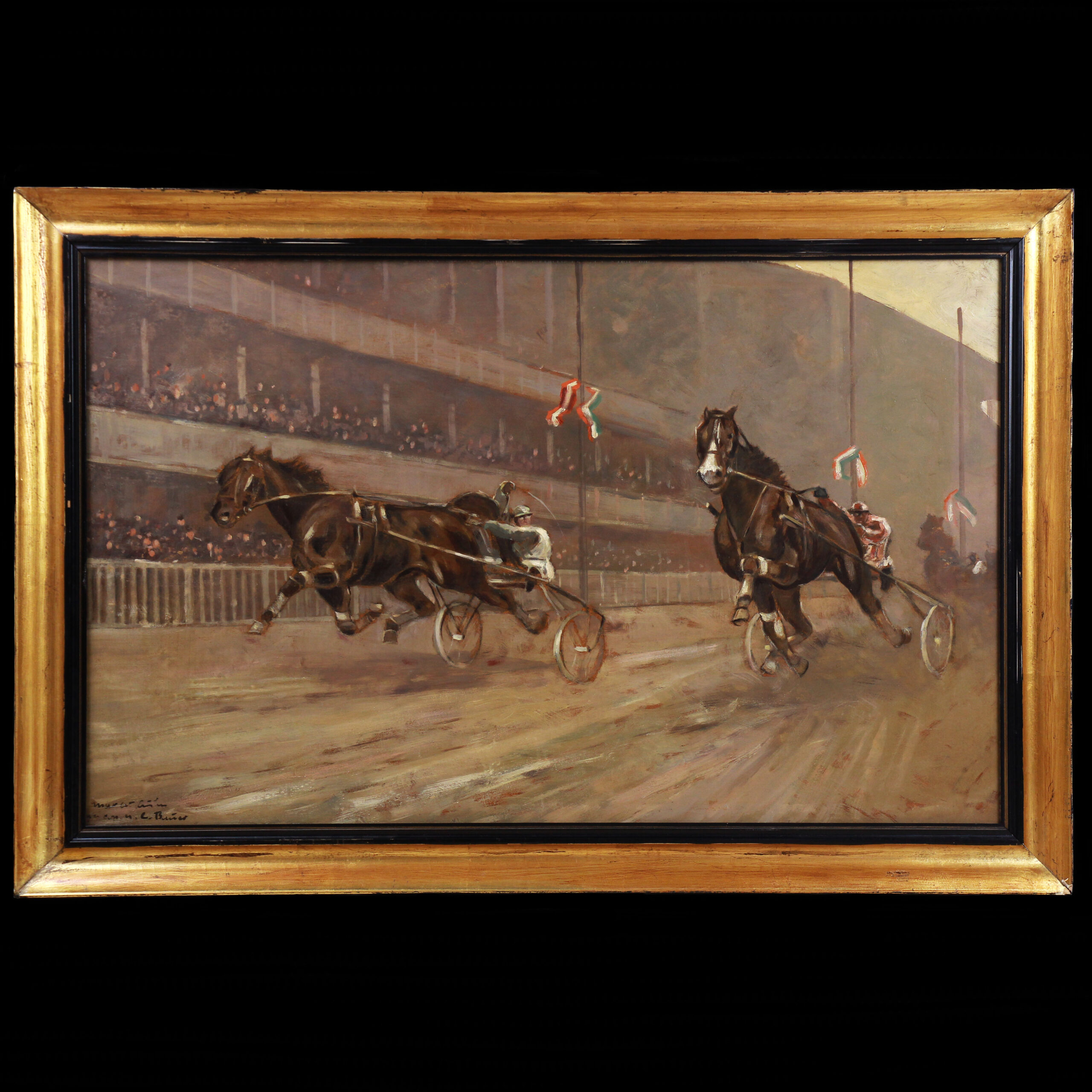 Horse racing scene oil on canvas by Carl Bauer 20th
Horse racing scene ( harness racing ) painted on panel mid 20th century .
Harness racing is a form of horse racing in which the horses race at a specific gait (a trot or a pace).
They usually pull a two-wheeled cart called a sulky, or spider, occupied by a driver.
In Europe ( less frequently in Australia and in New Zealand ) races with jockeys riding directly on saddled trotters (trot monté in French) are also conducted.
Very well executed artwork , a really eyecatcher for all interiors .
Additional information about the painter:
Carl Franz Bauer studied from 1897 to 1901 at the Academy of Fine Arts in Vienna under professors Christian Griepenkerl and Alois Delug.
Bauer received painting orders from the Viennese aristocracy, who mainly wanted portraits of horsemen.
Today Carl Franz Bauer is one of the most important Austrian equestrian painters of the last century.
Extra info about the painting :
Title:   Horse racing scene
Materials :   oil on panel
Signature:  signed
Dimensions canvas : 50 cm x 80 cm
Dimensions frame  : 56 cm x 65 cm
Condition:  good condition
Artiste : Carl Franz Bauer (1879-1954)
School :  Austrian school mid 20th
Provenance : Sale Germany
Style : impressionism
________________________________________________________________________
Sold with his original period frame .
Free shipping via DHL Express !!
Only logged in customers who have purchased this product may leave a review.