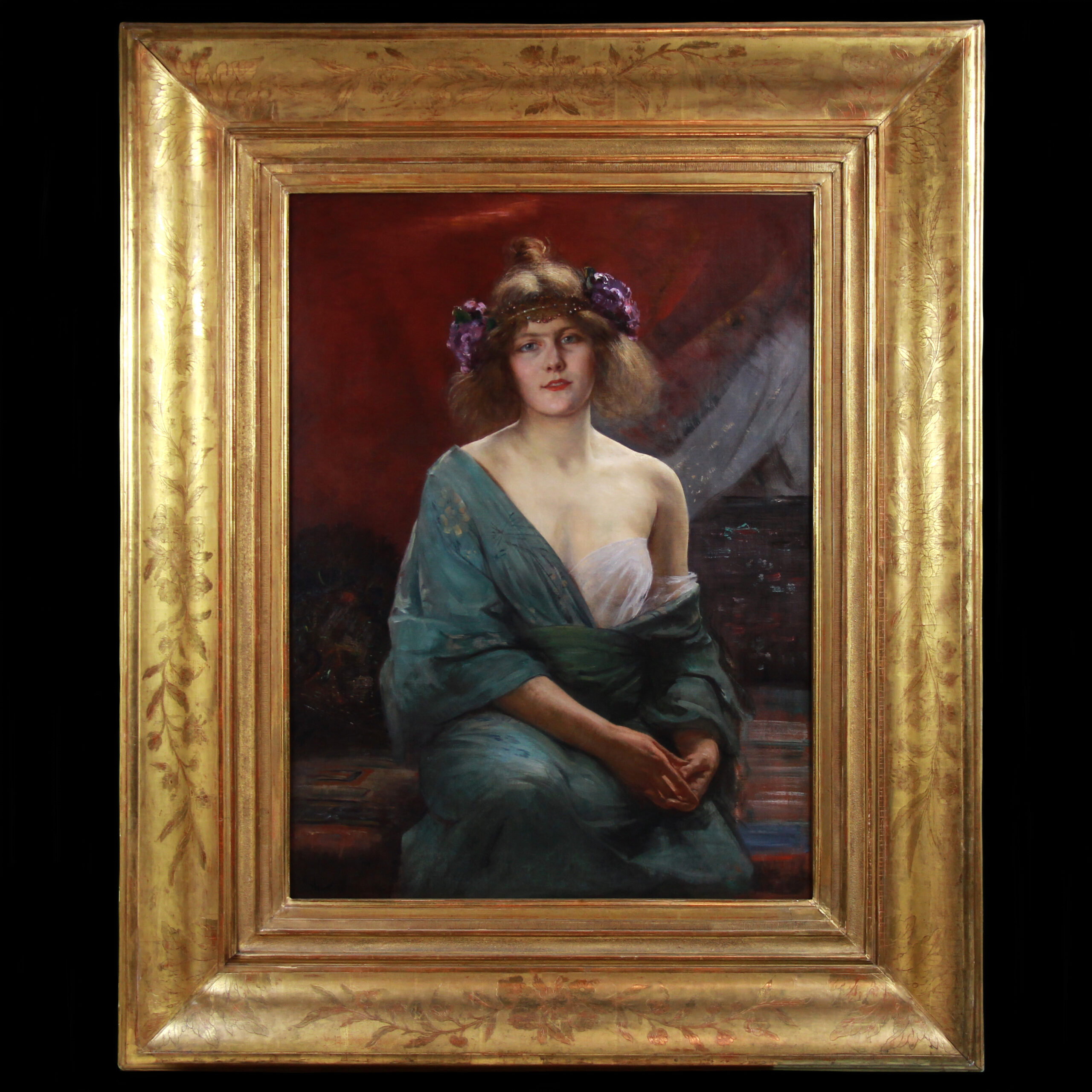 Art Nouveau portrait " Girl with the green kimono " by Alfred Stevens
Art Nouveau portrait of a young girl " Girl with the green kimono " painted by the famous and talented Belgian artist " Alfred Stevens " (1823-1906 ) .
This one fine example of the Art Nouveau style, very rare to find such a nice example of it .
The painting is framed in an astonishing large art nouveau frame ( one of a kind )
Additional info about the artist :
Alfred Émile Léopold Stevens (11 May 1823 – 24 August 1906) was a Belgian painter, known for his paintings of elegant modern women.
Alfred Stevens was born in Brussels. He came from a family involved with the visual arts: his older brother Joseph (1816–1892) and his son Léopold (1866–1935) were painters, while another brother Arthur (1825–99) was an art dealer and critic.
His father, who had fought in the Napoleonic wars in the army of William I of the Netherlands, was an art collector who owned several watercolors by Eugène Delacroix, among other artists. His mother's parents ran Café de l'Amitié in Brussels, a meeting place for politicians, writers, and artists. All the Stevens children benefited from the people they met there, and the social skills they acquired in growing up around important people.
Additional info about the style : 
Art Nouveau is an international style of art, architecture and applied art, especially the decorative arts, that was most popular between 1890 and 1910. A reaction to the academic art of the 19th century, it was inspired by natural forms and structures, particularly the curved lines of plants and flowers.
English uses the French name Art Nouveau (new art). The style is related to styles that emerged in many countries in Europe at about the same time: in Austria it is known as Secessionsstil after Wiener Secession
Art Nouveau is a total art style: It embraces a wide range of fine and decorative arts, including architecture, painting, graphic art, interior design, jewelry, furniture, textiles, ceramics, glass art, and metal work.
By 1910, Art Nouveau was already out of style. It was replaced as the dominant European architectural and decorative style first by Art Deco and then by Modernism.
Extra info about the artwork :
Title:   " girl with the green kimono "
Médium:    oil on canvas
Signature:  signed bottom left
Provenance:   private collection
Dimensions canvas:  68 cm x 90 cm
Dimensions frame : 110 cm x 133 cm ( large and heavy period frame )
Condition: very good condition ( cleaned artwork )
Artiste : Alfred Émile Léopold Stevens (1823-1906 )
School : Belgian school
Sold with the frame .
Free shipping via DHL Express ( France  – region Paris / Hauts de France –  Belgium , Netherlands ) !!
Additional information
| | |
| --- | --- |
| Artist | Alfred Émile Léopold Stevens (11 May 1823 – 24 August 1906) |
| Materials | Oil on canvas |
| Provenance | Private sale France ( Lille ) |
| Dimensions | Canvas : 90 cm x 68 cm |
Only logged in customers who have purchased this product may leave a review.