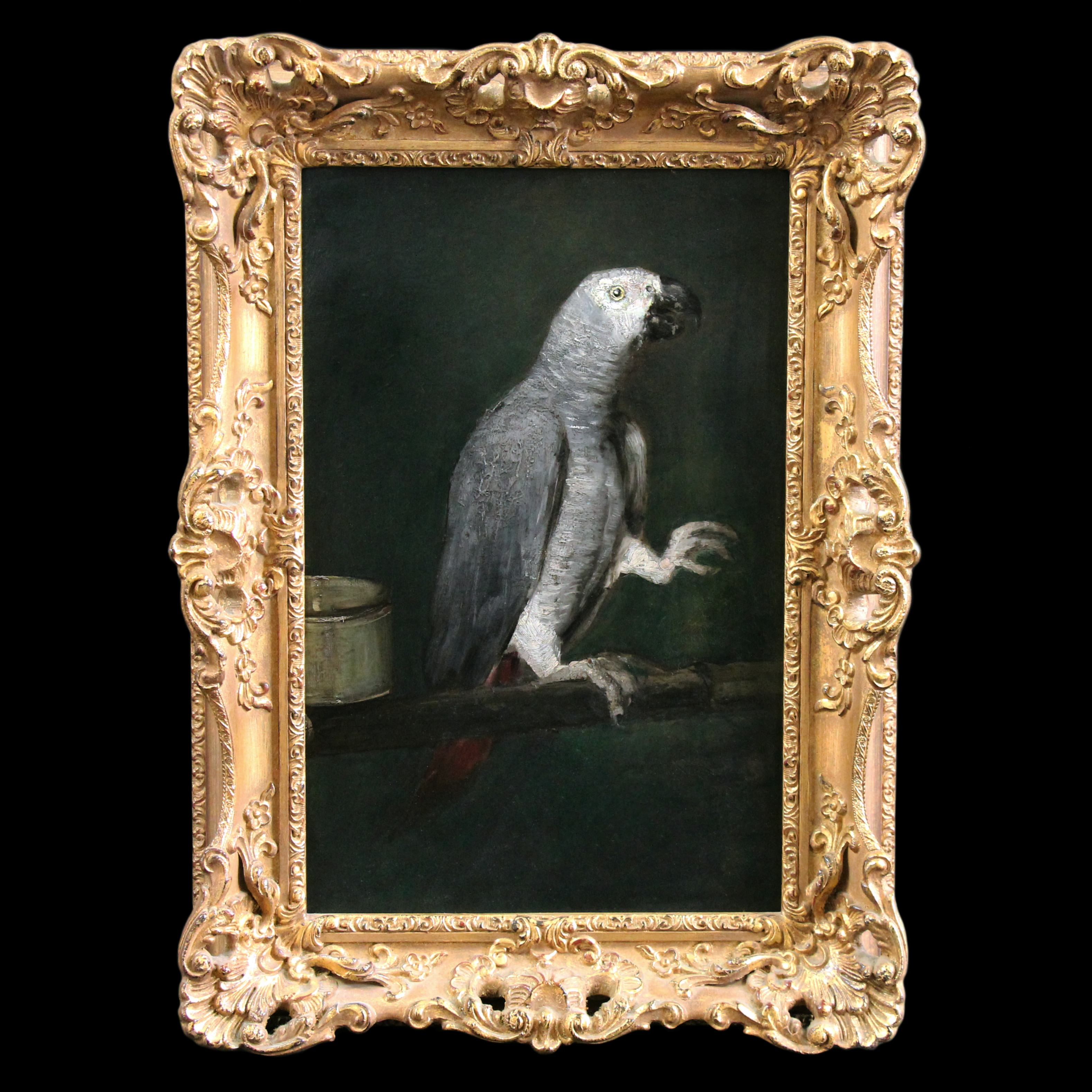 SOLD !
Very nice and exclusive painting, oil on cardboard depicting the portrait of a Grey parrot .
19th century oil painting French school . This is a very exclusive and rare painting ( very difficult to find painting of parrots )
Info of the Grey Parrot :
The grey parrot (Psittacus erithacus), also known as the Congo grey parrot or African grey parrot, is an Old World parrot in the family Psittacidae. The Timneh parrot (Psittacus timneh) was earlier treated as conspecific but has since been split as a full species.
The grey parrot is a medium-sized, predominantly grey, black-billed parrot. Their average weight is 400 grams (0.88 lb), with an average length of 33 centimetres (13 in) and an average wingspan of 46–52 centimetres (18–20 in). It has darker grey over the head and both wings, while the head and body feathers have a slight white edge to them. The tail feathers are red. Due to selection by parrot breeders, some grey parrots are partly or completely red. Both sexes appear similar. The colouration of juveniles is similar to that of adults, but the eye is typically dark grey to black, in comparison to the yellow irises around dark eyes of the adult birds. The undertail coverts are also tinged with grey. The adults weigh 418–526 grams (0.922–1.160 lb).
Grey parrots may live for 40–60 years in captivity, although their mean lifespan in the wild appears to be shorter at about 23 years.
Grey parrots are monogamous breeders which nest in tree cavities. Each couple of parrots needs its own tree to nest. The hen lays three to five eggs, which she incubates for 30 days while being fed by her mate. The adults defend their nesting sites
Additional information
Materials

Oil on cardboard

Dimensions

Painting : 31 cm x 47 cm

Framed : 43 cm x 60 cm

Condition

in good condition
Only logged in customers who have purchased this product may leave a review.