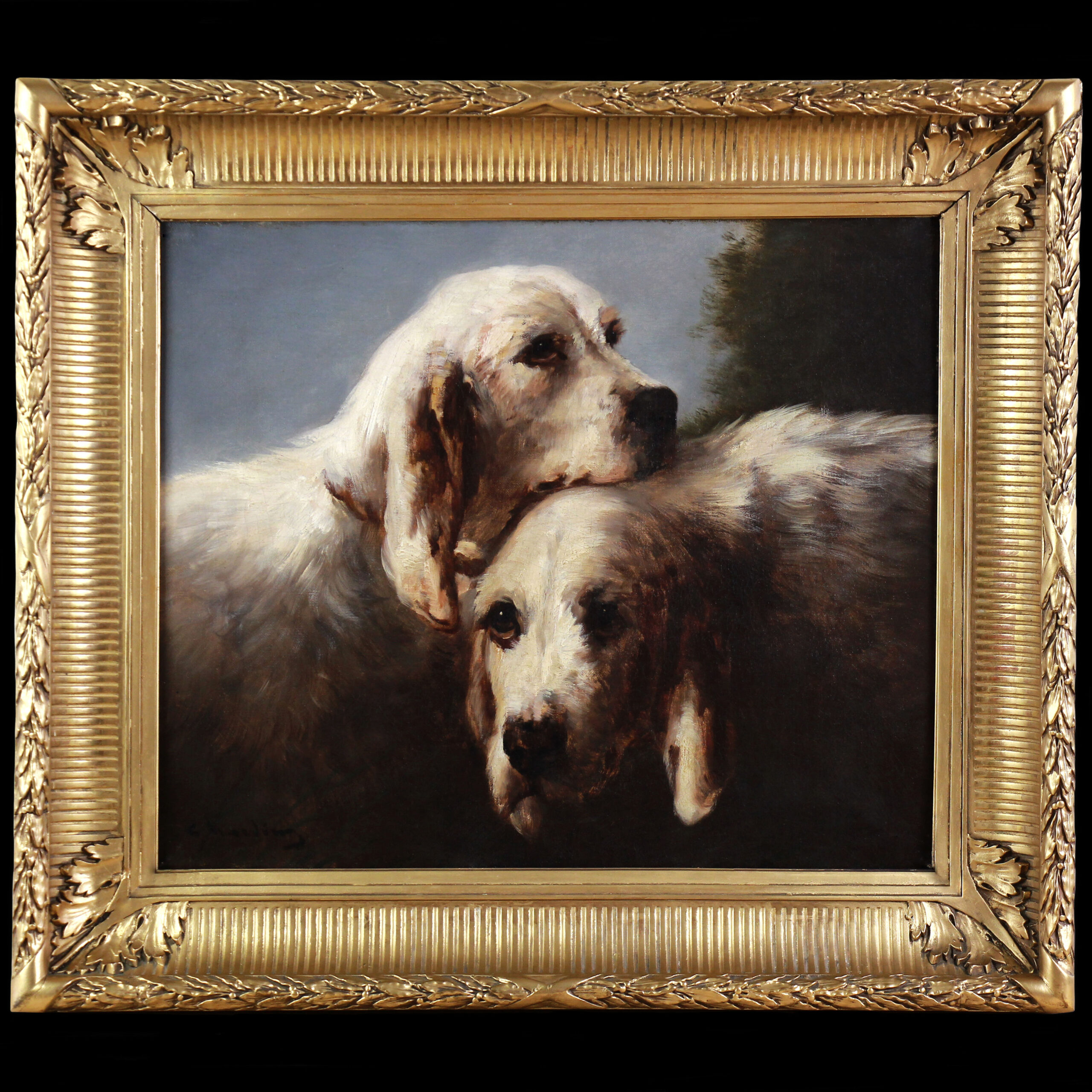 French hunting dogs by Jules Chardigny (1842-1892)
French hunting dogs , exclusive oil on canvas depicting the portrait of two Griffon hunting dogs .
This painting is a late 19th century quality work of art , and has been painted by the talented British painter Jules Chardigny .
Very decorative and exclusive paintings , so it's perfect for the dog painting collectors .
Additional information about the artist :
Jules Chardigny was born in London in 1842.
He is the son of the sculptor Pierre Joseph Demongé Chardigny.
First a pupil of his father, he became that of Thomas Couture.
He began to exhibit in 1864 and took part for the last time in the Salon in 1885, the year in which he sent a painting.
As a sculptor, he mainly executes busts , and as a painter , still lifes and some portraits. He died at the end of 1892.
Additional information about the dog breed :
The " grand Griffons vendéens " is an very old dog breed , which crossed the ages.
He is very resistant and so used to hunt in very difficult conditions .
Griffons are particularly loyal and affectionate dogs
Having a predisposition for life in a pack, he loves being surrounded.
Extra info about the painting :
Title:   French hunting dogs
Materials :   oil on canvas
Signature:   signed below left
Provenance:   private collection France
Dimensions canvas : 46 cm x 56 cm
Dimensions frame  : 62 cm x 72 cm
Condition: very good condition
Artiste : Jules CHARDIGNY (1842-1892)
School : British school 19th century
________________________________________________________________________
Sold with his original period frame .
Free shipping via DHL Express !!
Only logged in customers who have purchased this product may leave a review.