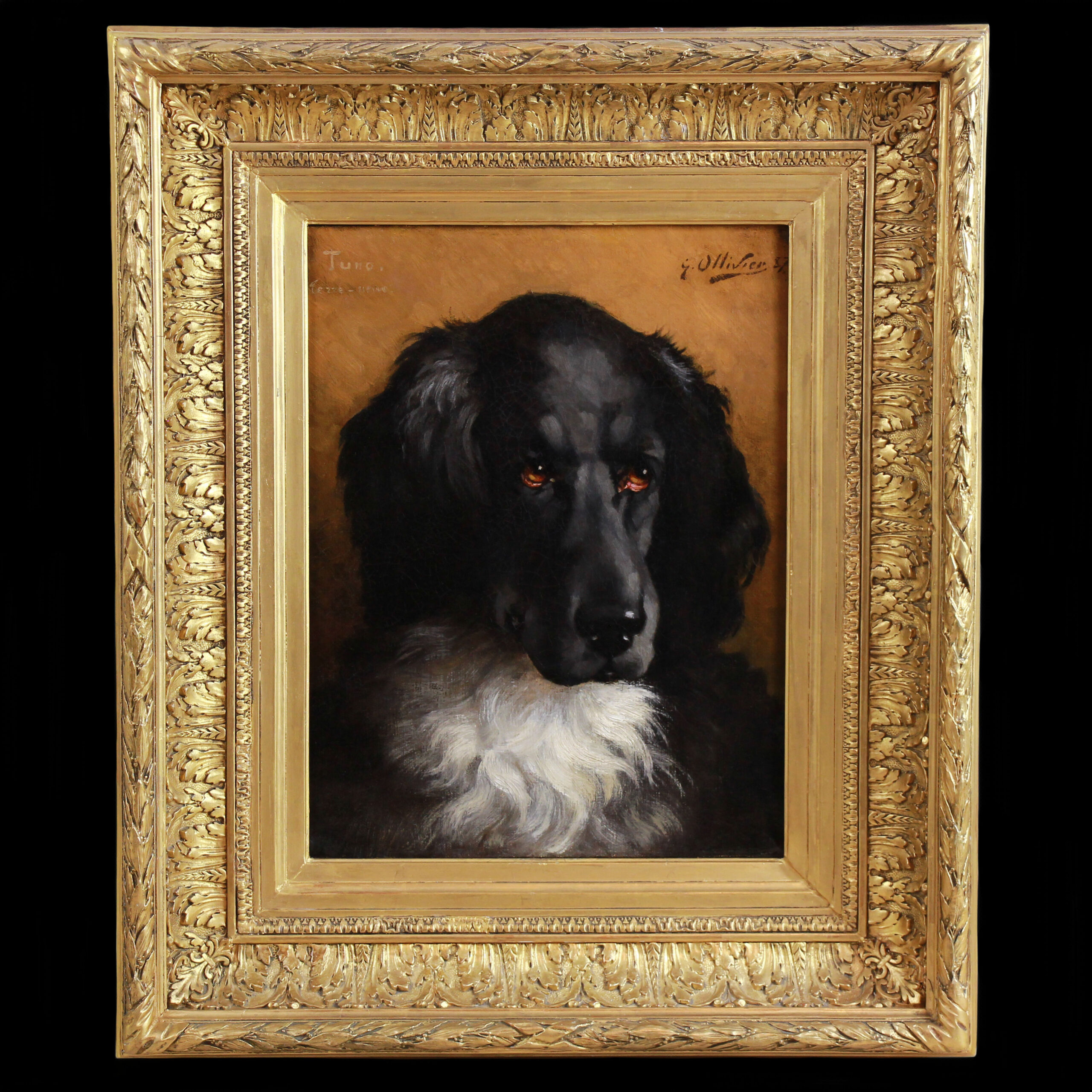 19th century oil on canvas portrait of a Newfoundland dog
19th century signed and dated oil on canvas ,depicting the portrait of a dog called Tuno the terre neuve ( Newfoundlander ).
This painting is a late 19th century quality work of art , and has been painted by a very talented hand .
French school signed E. Ollivier and dated 1887  .
A very decorative and exclusive painting , so it's perfect for the dog painting collectors .
This exclusive oil on canvas is in very good condition, and it's framed in an original gold leaf period frame .
Additional information about the dog breed :
The Newfoundland is a large working dog.
They can be either black, brown, grey, or white-and-black.
Newfoundland dogs were originally bred and used as working dogs for fishermen .
The breed is known for their giant size, intelligence, tremendous strength, calm dispositions, and loyalty.
They excel at water rescue-lifesaving because of their muscular build, thick double coat, webbed paws, and swimming abilities.
Extra info about the painting :
Title:   Portrait of a Newfoundland dog breed ( Terre Neuve )
Materials :   oil on canvas
Signature:  signed corner above right
Provenance:   private collection France
Dimensions canvas : 32 cm x 41 cm
Dimensions frame  : 55 cm x 65 cm
Condition: very good condition ( restored in our workshop )
Artiste : E. Ollivier and dated 1887  .
School : French school 19th century
________________________________________________________________________
Sold with his original period frame .
Free shipping via DHL Express !!
Only logged in customers who have purchased this product may leave a review.