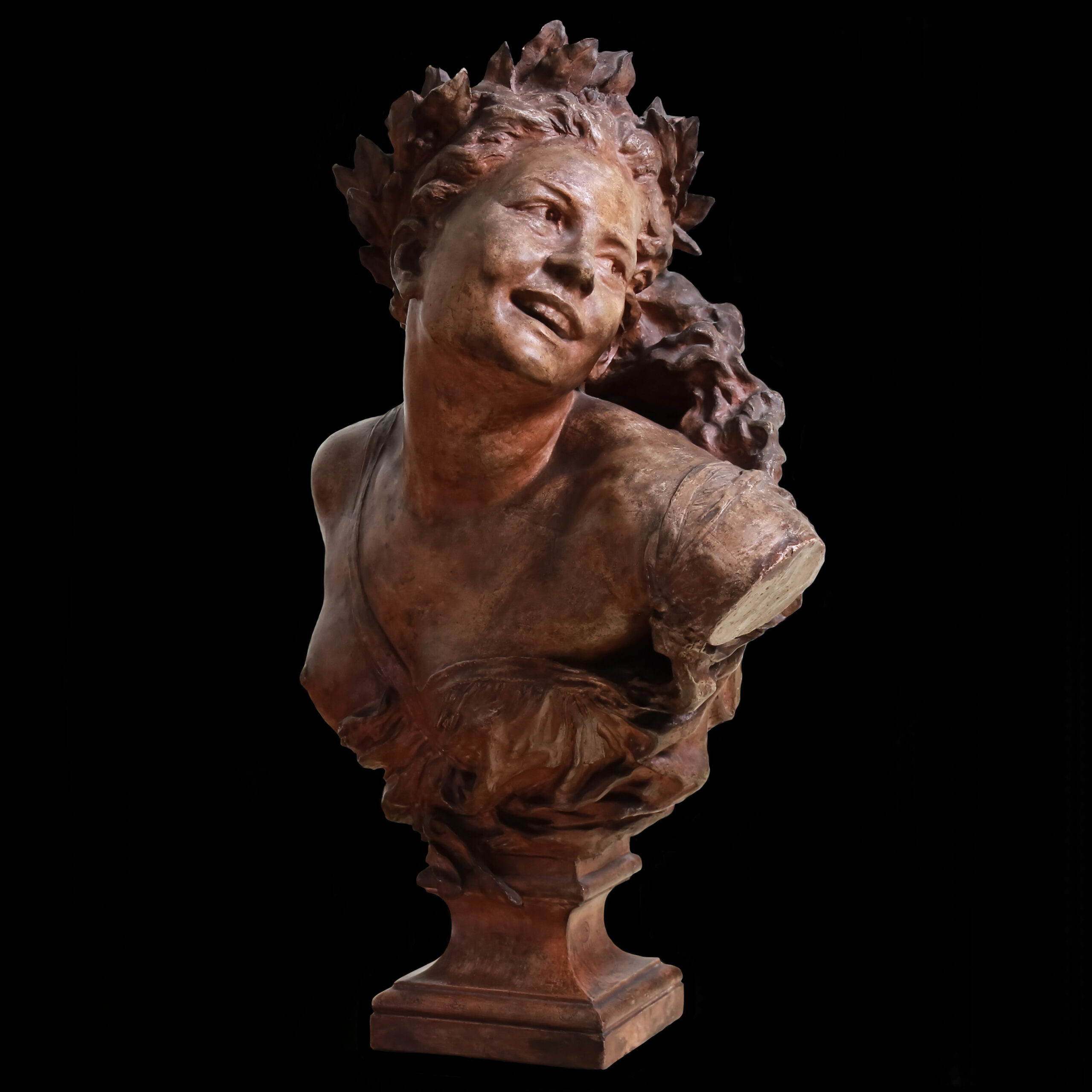 Terracotta bust by Jean-Baptiste Carpeaux
Terracotta bust by Jean Baptiste Carpeaux ,French school of the 19th century " La bacchante aux lauriers "
Very exclusive bust , bears the Imperial eagle stamp ( PROPRIETE CARPEAUX )
Extra info about the artist :
Jean-Baptiste Carpeaux was a French sculptor and painter during the Second Empire under Napoleon III.
Noticed after many adventures by Napoleon III, Jean-Baptiste Carpeaux is finally enjoying some success.
In 1854 he won the Grand Prix de Rome with the round-bump "Hector holding his arms his son Astyanax.".
In Rome, where he went the following year, he was very undisciplined and quickly came into conflict with the director of the Villa Medici, Jean-Victor Schnetz.
He walks the streets, tirelessly draws and sculpts in particular a beautiful Italian, "La Palombella", which makes a strong impression.
In his sculptures, he seeks movement and the instantaneous.
Periods of enthusiasm and depression follow one another.
It is the time of the "Neapolitan Sinner", then it is the sculpture "Ugolino and his children", work of end of study at the Medici villa.
Back in Paris, in 1862, the notoriety of Jean-Baptiste Carpeaux is growing and orders are pouring in.
He becomes the official sculptor of Napoleon III and is in charge of the artistic education of the Prince Imperial.
Extra info about the painting :
Title: La bacchante aux lauriers
Médium:   terracotta with pink patina
Signature:  signed on the bottom of the sculpture
Provenance:   private collection France ( Paris )
Dimensions:    Hight 60 cm
Condition: very good condition
Artiste : Jean-Baptiste CARPEAUX (1827-1875)
School : French school
Like the Génie de la Danse, the bust of this Bacchante aux lauriers comes from the composition " La Danse "
executed for the façade of the Opéra Garnier, whose original group in Echaillon stone is now preserved in the Musée Orsay (inv. no. RF 2884).
A terracotta bust by Jean-Baptiste Carpeaux with the imperial stamp are very rare and exclusive ( see additional pictures ) !!
We are also active on the art and antiques sites of " Proantic "and " anticSwiss ",with a large collection of exclusive artworks !!!
Shipped in a wooden reenforced case.
Free shipping via DHL Express !!
Only logged in customers who have purchased this product may leave a review.