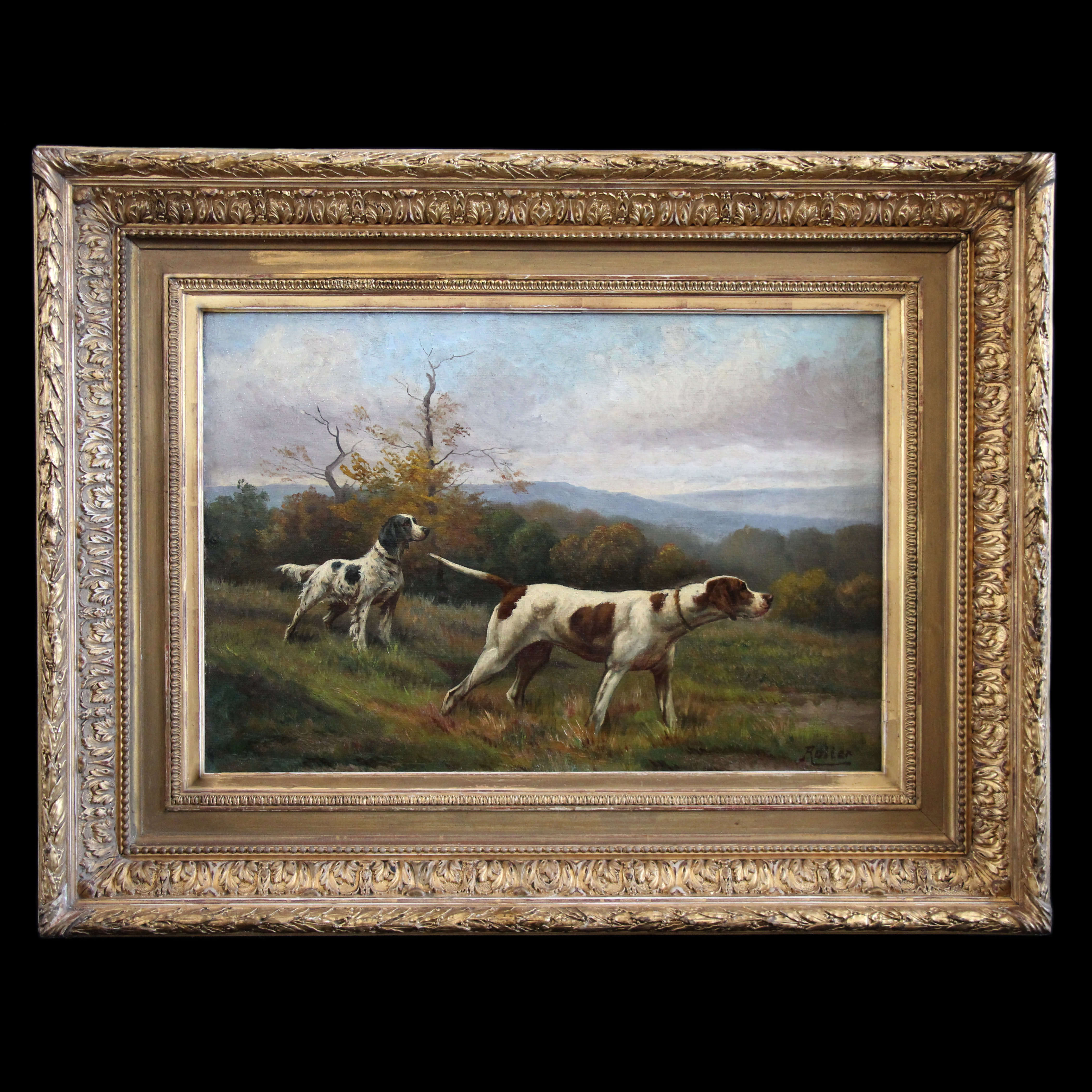 SOLD !
Very nice antique fine art oil painting shown a hunting scene . Oil on canvas ( tableau huile sur toile ).
Hunting scene with two dogs in a landscape ( pointers ). Painted by the French artist Rosier .
Framed in a very old beautiful period frame ( gold leaf frame ) .
Very exclusive and decorative work of art, for the fine art collectors of hunting scenes and dogs !
Ready to shown on your wall !!
The history of the Pointer.:
like many breeds, is a reasonably debatable topic. Records of Pointers in England trace as far back as 1650. According to one source, the Pointer came to be in the 16th and 17th centuries. when pointing breeds.Including the Old Spanish and Portuguese pointer, were brought from the European mainland to England.
Through both history and anatomical evaluation. At least four breeds appear to have been instrumental in Pointer crosses. Greyhounds, Foxhounds, Bloodhounds, and Bull Terriers. Each of these were established breeds with unique qualities the Pointer.They could use to do its job.
Pointers were brought to the United States. where the breed flourished in the abundant open hunting land. At that time (late 1800s), the Setter was considered to be the bird-hunting dog and pointers were not even permitted to compete in field trials with setters. Around 1910, the Pointer began to beat the Setter at its own game. The Pointer has dominated the pointing breed field trials since then. (Fergus, 2002).
One of the earliest dogs to exert influence on the breed in the US was a dog imported from England in 187″Sensation". He is well known as the dog on the emblem of the Westminster Kennel ClubOne modern American kennel, established in 1936, and known for breeding large quantities of Pointers, Elhew Kennels produced a popular and successful line of gun dogs.
Additional information
Materials

Oil on canvas

Artist

Rolier

Dimensions

canvas : 38 cm x 54 cm

framed : 62 cm x 80 cm

Condition

Has been cleaned and restored . In good condition
Only logged in customers who have purchased this product may leave a review.