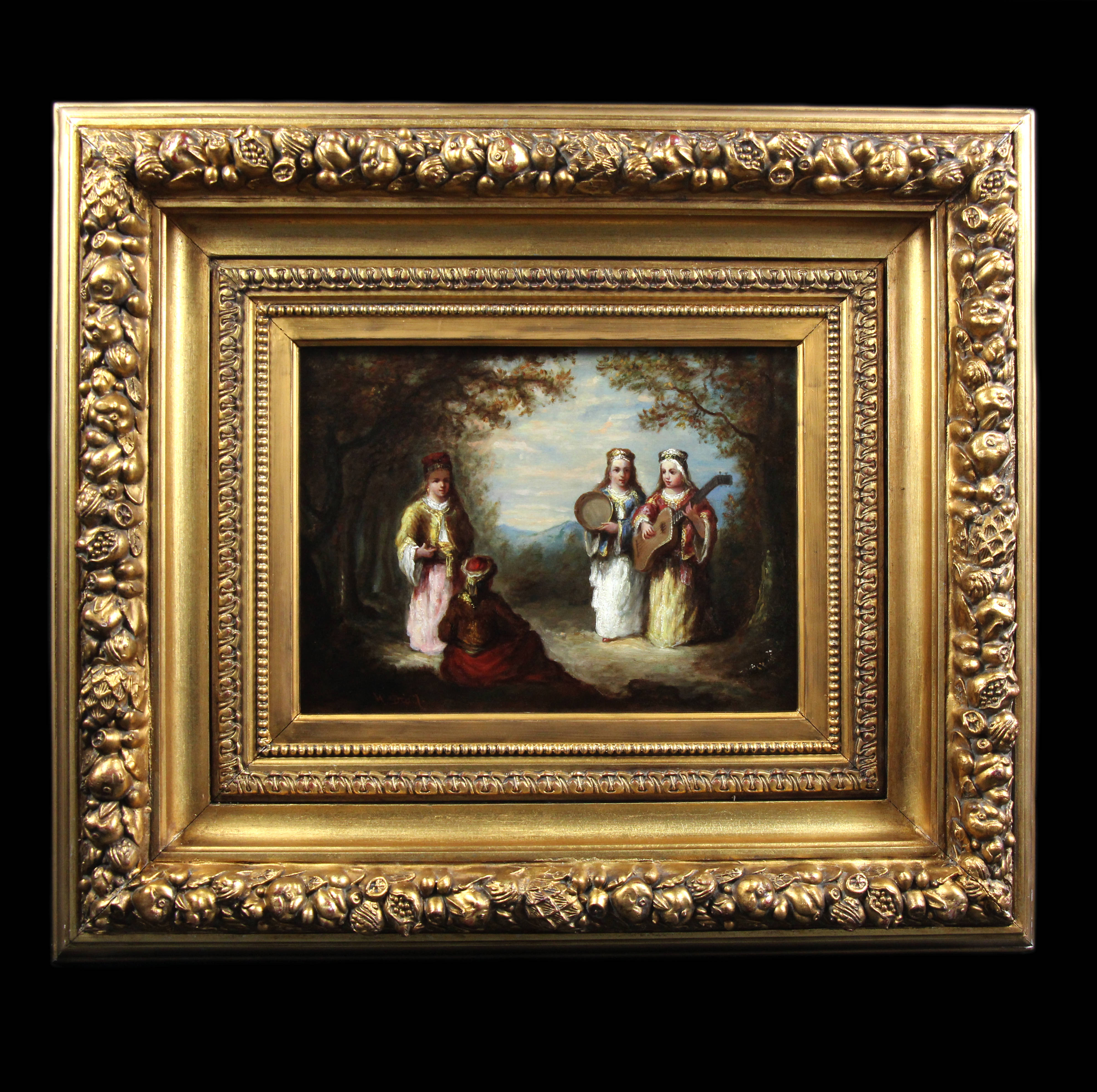 Barbizon school 19th century oil on panel
Barbizon school , old oil painting on panel depicting Gypsy/ Turkish girls in a forest .
Very nice and exclusive painting ,by the famous French artist " Narcisse Virgile DIAZ DE LA PEÑA (1807-1876)" Barbizon school.
A similar painting oil on panel "Jeunes musulmanes au tambourin et à l'éventailwent " went under the hammer for the price of 7.350 € .
Another one "Offrande au bohémien " was sold at Christie's , 12 Jun 2012 London for the price of € 23.463
Info about the artist :
Diaz was born in Bordeaux to Spanish parents. At the age of ten, Diaz became an orphan, and misfortune dogged his early years. His foot was bitten by a reptile in Meudon wood, near Sèvres, where he had been taken to live with some friends of his mother. The bite was poorly dressed, and ultimately he lost his leg. However, as it turned out, the wooden stump that replaced his leg became famous.
At fifteen he entered the studios at Sèvres, first working in the decoration of porcelain occupied him and later turning to painting. Turkish and Oriental scenes attracted him, and he took to painting Eastern figures dressed in richly coloured garments; many of these paintings remain extant. He also spent much time at Barbizon. One of his teachers and friends in Paris was François Souchon.
Around 1831 Díaz encountered Théodore Rousseau, for whom he possessed a great veneration, despite the fact that Rousseau was four years younger. At Fontainebleau Díaz found Rousseau painting his wonderful forest pictures, and was determined to paint in the same way if possible. However, Rousseau was then in poor health, embittered against the world, and consequently was difficult to approach. On one occasion, Diaz followed him surreptitiously to the forest, with his wooden leg hindering, and he dodged round after the painter, trying to observe his method of work. After a time Díaz found a way to become friendly with Rousseau, and revealed his eagerness to understand the latter's techniques. Rousseau was touched with the passionate words of admiration, and finally taught Diaz all he knew.
Additional information
Materials

Oil on panel

Artist

Narcisse Virgile DIAZ DE LA PEÑA (1807-1876)

Dimentions

painting : 30 cm x 41 cm

framed: 68 cm x 78 cm

Condition

Nice painting in a very good condition, in a period gold-leaf frame.
Only logged in customers who have purchased this product may leave a review.